Latest News – Updated August 2016
Gentle Reminder:  2016 Membership Subscriptions are payable on or before the 1st January 2016
Show Date for your diary:
Open & Bulldog Of The Year Show 2016 – Saturday 26th November 2016
Entries available online at www.fossedata.co.uk
download your schedule here : November 2016 Schedule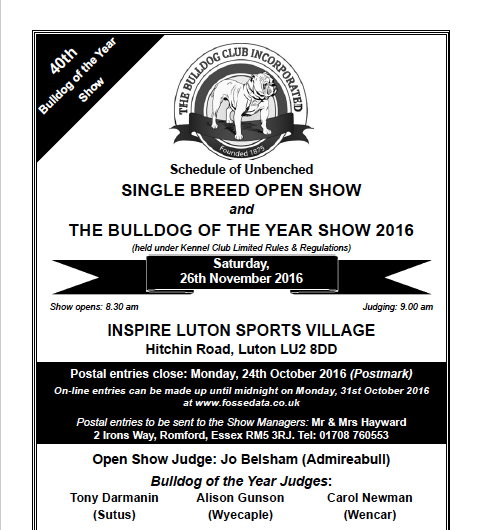 Show News
Championship Show March 5th 2016
The Bulldog Club Incorporated would like to thank our 2016 Championship Show breed specialist judge Mr Arthur Rowe (Rockytop) for doing a fantastic job and we would like to wish Arthur all the best as this was his final bulldog judging appointment.
Huge thanks also to our dedicated committee for putting on such a great show and for all of the hard work each and every one of you do – it is really appreciated by everyone.
We would also like to say a huge thank you to our generous class sponsors for their continued support:
Kismond Bulldogs
Cholto Bulldogs
Petmate Services 
Bagibeli
Decobullies
Ironspirit Bulldogs
Haddaway Bulldogs
Linfordpride Bulldogs
Jerome Henry
Chris Carberry
Beaubull Bulldogs
Goldfayre Bulldogs
Wencar Bulldogs
Orsinosouth Bulldogs
Royal Canin
Finally and by no means least – thank you to all of you that entered and we hope that you enjoyed your day with us and look forward to meeting you all again at November Open Show !
Open Show & Bulldog Of The Year Show 2015
The Bulldog Club Incorporated would like to thank our 2015 Open Show breed specialist judge Mrs Eileen Aldridge (Culverhay) and our 3 bulldog of the year judges Mr Jeff Lane (Anjefan) Mrs Julie Norris (Jumano) Mr Bob Haydock (Cabinteely).
We would also like to thank our hardworking committee for putting on yet another great show which was enjoyed by all !
2015 Open Show Sponsors
Also a huge thank you to our 2015 Open Show class sponsors for their fantastic generosity in helping to keep our show simply the best there is !
Beaubull Bulldogs
Burchell Bulldogs
Chris Carberry
Goldfayre Bulldogs
Honourabull Bulldogs
Jerome Henry
Linfordpride Bulldogs
SarDav Bulldogs
Also thank you to Fish 4 Dogs and Petcetera for their commitment in supporting The Bulldog Club Incorporated Open Show
Date for your 2016 Diary
Our Championship Show is 5th March 2016 – Judge Mr Arthur Rowe – entry will be available online at www.fossedata.co.uk just click on our show page and you will be taken directly to online entry !
What you can do on our new and improving interactive website
Download membership forms (we will be introducing online membership and renewals very soon, securely via PayPal)
View our magazine advertising rates
Enter all of our shows online with just a click from our enter online page
Sign up to our breeders and stud register
We are continually working on improving our site making things smarter and easier for you to interact, we are welcome and open for any constructive suggestions, use our contact page !
Where it all began – 1875
Posted by Jerome HENRY on Friday, December 4th, 2015 @ 2:37PM
Categories: Uncategorised